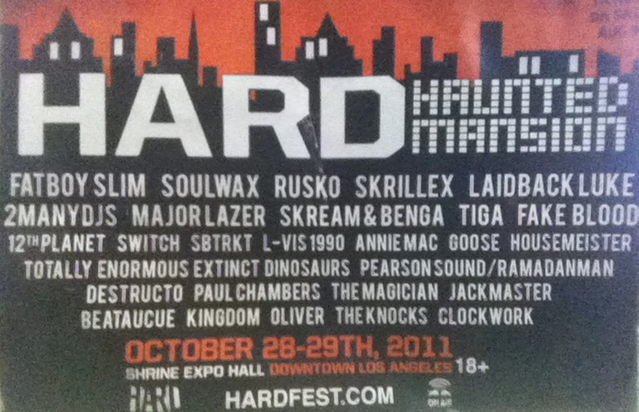 Thanks phone cameras..
HARD usually likes to wait for one of their preceding concerts before they release future lineups, but I guess the excitement kept Destructo from waiting until HARD Summer. Audiotistic was last night and the floors were showered with flyers for the 4th annual HARD Haunted Mansion!!! Holy sh*t f*ck mother of god they've done it again. SOULWAX AND 2MANYDJS MAKE THEIR RETURN TO LA! I can't let up on these guys. They consistently put together some of the top performances I've ever beared witness. This year is stacked with another all star lineup that HARD never leaves us without.
Of these artists, I'm excited to see: Totally Enormous Extinct Dinosaurs, GOOSE, Skream & Benga, Fatboy Slim, and Tiga. As always I can never get tired of Fake Blood, Laidback Luke, Rusko, Skrillex, and 12th Planet. All in their respected order. It's going to be another hell of a Halloween. Here we go for round 4!