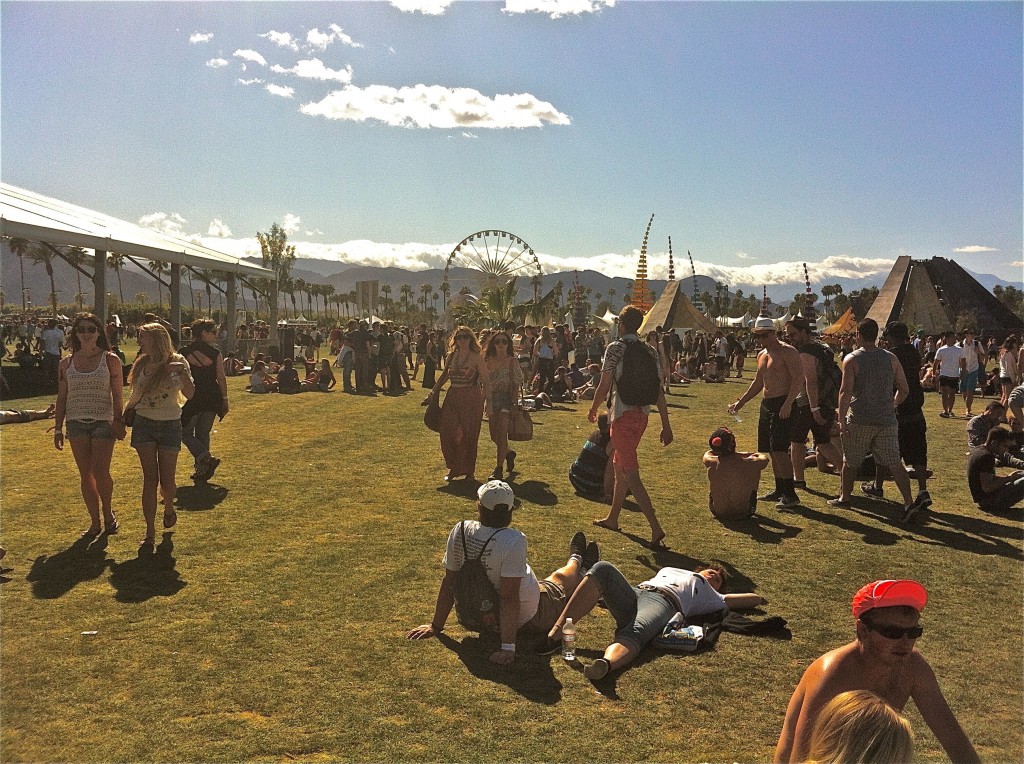 CoachellAltDelight brings attention to special artists that will be featured in Indio come April.
Some we love. Some we just discovered. All essential.
Click here for more from this series.
4/11 Days
After attending Coachella for many years, I've never seen people dump their tickets for less than face value. This year is different though. Tickets are floating around abundantly like helium balloons at a Honda dealership. I think it has to do with Coachella's more minimalistic lineup. There's no mass appeal, at all. Perhaps the "fans" don't realize (or have the patience to discover) how many hidden gems are stacked on the bill. 2013 is the year of deep house. Deepchella.
Ranked from absolutely must see to house lovers only
Jessie Ware – Running (Disclosure remix) [SUNDAY]
[Audio: https://controlaltdelight.com/Music/deepchella13/Jessie%20Ware%20%28Disclosure%20Remix%29.mp3]
Simian Mobile Disco – Audacity of Huge [SATURDAY]
[Audio: https://controlaltdelight.com/Music/deepchella13/02%20Audacity%20Of%20Huge.mp3]
Parov Stelar‪ – Booty Swing [SUNDAY]
[Audio: https://controlaltdelight.com/Music/deepchella13/05%20Booty%20Swing.mp3]
The 2 Bears – Work [SATURDAY]
[Audio: https://controlaltdelight.com/Music/deepchella13/04%20Work%20%28Radio%20Edit%29.mp3]
Julio Bashmore – Battle for Middle You [SUNDAY]
[Audio: https://controlaltdelight.com/Music/deepchella13/Battle%20for%20Middle%20You.mp3]
Rule The World (Maya Jane Coles Remix) [SUNDAY]
[Audio: https://controlaltdelight.com/Music/deepchella13/Rule%20The%20World%20%28Maya%20Jane%20Coles%20Remix%29.mp3]
Four Tet – Ye Ye [FRIDAY]
[Audio: https://controlaltdelight.com/Music/deepchella13/02%20Ye%20Ye.mp3]
Seth Troxler – Aphrika [FRIDAY]
[Audio: https://controlaltdelight.com/Music/deepchella13/01%20Aphrika.mp3]
Richie Hawtin – Bubbles [SATURDAY]
[Audio: https://controlaltdelight.com/Music/deepchella13/15%20Bubbles%20%28Richie%20Hawtin%20Original%20Mix%29.mp3]
Disclosure – Latch (Jamie Jones remix)‬ [SUNDAY]
[Audio: https://controlaltdelight.com/Music/deepchella13/02%20Latch%20%28Jamie%20Jones%20Remix%29.mp3]
‪The xx‪ – Sunset (Jamie xx Edit)‬ [FRIDAY]
[Audio: https://controlaltdelight.com/Music/deepchella13/01%20Sunset%20%28Jamie%20xx%20Edit%29.mp3]
Booka Shade – Night Falls [SATURDAY]
[Audio: https://controlaltdelight.com/Music/deepchella13/Booka%20Shade%20-%20Night%20Falls%20%28Album%20Version%29.mp3]
Joris Voorn – Spank The Maid [SUNDAY]
[Audio: https://controlaltdelight.com/Music/deepchella13/43%20%20Spank%20The%20Maid%20%28Original%20Mix%29.mp3]
Loco Dice – Detox [SUNDAY]
[Audio: https://controlaltdelight.com/Music/deepchella13/02%20Detox.mp3]
Paul Kalkbrenner – Sky and Sand [SUNDAY]
[Audio: https://controlaltdelight.com/Music/deepchella13/04%20Sky%20And%20Sand%20%28Feat.%20Fritz%20Kalkbrenner%29%20%28Original%20Mix%29.mp3]